Honda PACT Success Stories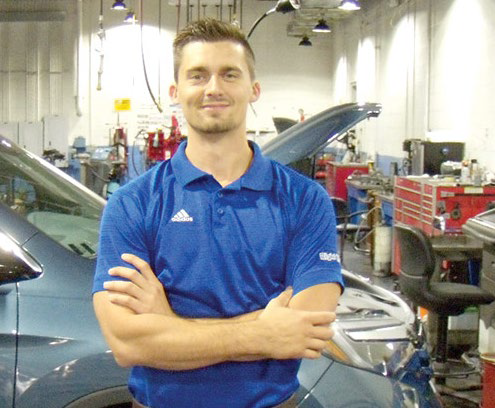 CHRIS FREIWALD, PARTS & SERVICE DIRECTOR AT RIGHT HONDA
As a high school graduate in 2005, Chris Freiwald never anticipated a career in the automobile industry. Today, however, Freiwald is the Parts and Service Director at Right Honda in Scottsdale, Arizona. Freiwald's journey from high school student to dealership management was undeniably rapid and contains a few twists. Yet two factors loom large in his success: his desire to excel and PACT, American Honda's Professional Automotive Career Training program.
Coming out of high school, Freiwald knew he wanted to go to college, but he had no clear goals. He thought he might go for an engineering degree, perhaps something IT related. "I didn't know anything about cars," he said. "I was more of a computer nerd."
With no income and no plan, fate stepped into Freiwald's life. His girlfriend's father, a technician at Right Honda, suggested he apply for a lot attendant job.
Coincidentally, that same year, Gateway Community College in Phoenix launched their new PACT two-year associate's degree program. Right Honda's service manager at the time was a big supporter of PACT. "He was pushing the PACT program," said Freiwald. "I came aboard with the assumption that after getting my feet wet and learning the dealer processes I'd go into the PACT program at Gateway."
Learning Honda technology at school and working part time at Right Honda, Freiwald soon became an Express Service technician. PACT training and express service work proved the effectiveness of a good school-to-work program. "I went on the line working flat rate when I graduated from Gateway in 2007," Freiwald said.
After his PACT graduation, and by now working full time at the dealership, Freiwald was given opportunities to attend additional training at American Honda's training centers in Denver and Torrance. With some 60 percent of Honda's technical training already credited through PACT, Freiwald made good use of his factory training time, quickly knocking out the remaining 40 percent of the technician training. "In 2008, I became a Honda Master Tech," he said, "and I continued to work on the line until 2011."
Freiwald's need to excel caused him some restlessness, however, and he frankly admits that by 2011 he felt he had "maxxed out" as a technician. He began a conversation with Right Honda-Toyota vice president Jay Francis about other opportunities. "I gave him an outside-the-box job," said Francis. "I made him the store's IT guy."
Freiwald did well. Soon he was given the added responsibility of handling IT for sister store Right Toyota. "He learned the IT business and kept asking for more," said Francis, "so I put him into management." Francis needed a parts manager for the Toyota store, and he offered it to Freiwald. That lasted two years until the Parts & Service Director position opened up at Right Honda. Again, Francis offered Freiwald the job. Freiwald was just 27 at the time.
Francis attributes Freiwald's success to his eagerness to learn. "Most guys just want to settle in but Chris kept wanting to learn," he said. "The guy has embraced every challenge."
For a young man who never anticipated a career in the automobile industry, his automobile industry career is clearly on a fast track to continued success. However, he stays involved with Gateway's PACT program, attending graduations and speaking about his career and dealership opportunities. He also makes sure Right Honda maintains a presence on the PACT advisory board at Gateway.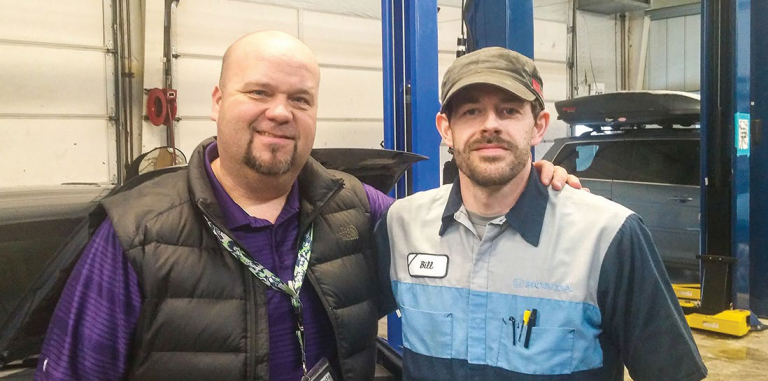 TRUCK DRIVER TURNS TO PACT FOR A NEW CAREER
For years before entering the PACT program, Dye drove a delivery truck. "I didn't like it," he said. "I'd come home unhappy every night. But I had always liked working on cars. Finally my wife had had enough, and she told me I needed to do what I loved or stop complaining." Together Dye and his wife made the decision that he should change careers.
Dye knew that to make a good living working on cars he needed some formal training. He was familiar with Shoreline's PACT program; a friend had been a student and recommended it. "I went and talked to Bob (Biesiedzinski, PACT program coordinator at Shoreline College). As soon as I saw it, I knew PACT was the right place for me," said Dye.
Going back to school was no easy decision, though. It meant quitting his truck driving job– a significant cut to the family income. He and his wife knew they would have to live a frugal existence until Dye was skilled enough to earn a technician's wages.
And so, at the relatively advanced age of 37, Dye went back to school. He entered the PACT program at Shoreline and joined a cohort of much younger PACT students, some just out of high school. "Oh yeah," he said, "I was definitely the old guy in the room."
"His age worked in his favor," said PACT instructor Biesiedzinski. "With his experience and maturity, Bill was always the guy who'd convince the younger kids to study more seriously, and to not procrastinate. A good example is the self-study modules. We encourage the PACT students to get them done as early as possible. Bill's always coaxing them not to waste time."
Dye's leadership in class didn't go unnoticed. "He's very well respected and looked up to by his classmates, simply due to the effort he puts in," said Biesiedzinski. "The other students will seek him out for advice and guidance. Partly that's because he's more mature, but mostly it's because during his time in the program, his skills have grown tremendously."
Dye began working at Klein Honda during his first semester in PACT. "I started out working on Express," he said. "The hardest part of the transition from driving a truck to working in a dealer was trying to learn all the processes and the dealership lingo," he said.
The social requirements were different, too. "Driving a truck, you're on your own most of the day," Dye said. "You only talk to people five minutes at a time, when you're delivering their package." Working at the dealer Dye found that cooperation and teamwork were essential for success. "I love the teamwork," he said. "I have PACT grads working on either side of me. Everybody gets along well, and we help each other out when we need it."
Jim Matson, Service Director at Klein, speaks highly of Dye's work ethic. "Bill started off in Express, but he told me he wanted to work in the main shop and to go on Flat Rate, and he knew he'd have to work hard to get to that level." Dye's efforts have paid off. Today he works in Klein Honda's main shop, fixing anything that comes in the door. "Bill's a go-getter," said Matson.
Dye graduated the PACT program with credit for approximately 60% of Honda's skills modules and 100% of the self-studies.
Though undoubtedly happy to see Dye complete Shoreline's PACT program, PACT coordinator Biesiedzinski likely had some mixed feelings. "If I could have a room full of students like Bill, I'd take it every time," he said. "He is extremely committed; he engages with everything he does."